BedBag Disposable Truck Bed Liner
The BedBag is a large traditional type disposable trash can liner with draw string that is fitted to the bed of a pickup truck. BedBag will provide easy cleaning and preservation of pickup truck beds for truck owners and reduce the cost of cleaning for companies with fleet use pickup trucks.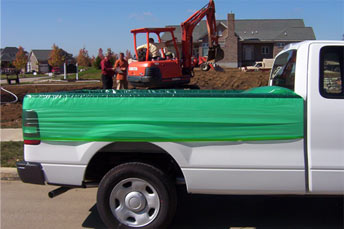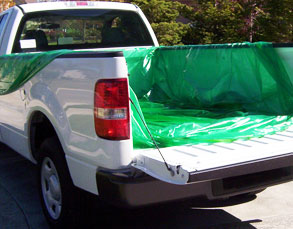 Other advantages include reducing scratches, keeping load clean, quick clean up, improved resale by reducing wear and tear of your bed or fixed liner by using a low cost and temporary liner that is compact and portable. UniprodUSA is introducing a new and unique product to the world. BedBags will certainly be a must have for every pickup truck owner in the world.
The BedBag is the only disposable pickup bed waste bag product on the market. Some of the many advantages to the BedBag include low cost, compactness, portability, and its suitability for pickup truck owners who wish to keep their trucks in good clean condition. The BedBag can be stored in truck cab for those unforeseen times its use is needed. It is already assembled and can be placed on a truck in less that 2 min. Businesses can keep them in stock. One pull of the draw string and it and its contents can be thrown away. Landscapers can use the BedBag for transporting mulch, by pulling the drawstring they will prevent mulch from blowing out during transport and prevent staining of spray on type liners. The BedBag will also offer a limited protection for your load from minor weather elements if the draw string is pulled shut.
Why do I need a BedBag?
There are numerous reasons to use a disposable waste bag. Some people spend hundreds of dollars on their bed liner then spend countless hours, over the lifetime of the truck, cleaning it. The BedBag is not meant to be a replacement for a fixed permanent bed liner. A permanent bed liner is meant to prevent scratching, denting, and hardcore marring of a pickup truck bed. The BedBag adds funtionality by keeping dirt, soil, and debris in (or out) with an easily disposable temporary plastic bag liner. Many employers haves spent hundreds of dollars in employee time continuously cleaning company truck beds. Contractors, landscapers will save money by using a BedBag. The BedBag will also protect the cleanliness of a load for those who already have a dirty truck bed, like when helping a friend move.
Where do I get a BedBag?
BedBag is a brand new product that just recently went into production. The BedBag is based on an idea that is totaly unique and we are breaking new ground.
Please feel free to contact us directly if you like.
You could be the first one in your neighborhood to sport a BedBag!
email: SPinson@UniProdUSA.com