UniProdUSA, BedBags For Charity
UniProdUSA, BedBag Provides BedBags for Social Causes
FOR IMMEDIATE RELEASE
July 07, 2010
UniProdUSA LLC
BedBag Donations

UniProdUSA LLC BedBag Donations UniProdUSA LLC has opened a new department dedicated to social causes. UniProdUSA recently donated a supply of BedBags to Matthew 25 Ministries for use wherever around the world there is a need in their missionary work. UniProdUSA recognizes how the collective power among people can make a diference. In an effort of social responsibility UniProdUSA wishes to do its part in the community and around the world.  UniProdUSA wishes to open its heart to those affected by adverse situations.   UniProdUSA has also donated BedBags to Clean Harbor Marina, a non profit organization, for use in the Gulf Oil Spill cleanup effort and hope that these types of donations will have an impact.  These BedBags were received with great enthusiasm to ease the job of cleaning up Gulf States beaches.
Original Post http://www.prlog.org/10781983-uniprodusa-bedbags-for-charity.html
______________
Beck Paint and Hardware Stores to Sell Disposable Pickup Truck Bedliner, BedBag
UniProdUSA LLC has signed Beck Paint Hardware to sell its BedBag product.
FOR IMMEDIATE RELEASE
December 20, 2009
UniProdUSA LLC
BedBag Donations
BedBag, a disposable pickup truck bedliner that is similar to a large disposable trash can liner with a clinch string to close the bag will be carried by Beck Paint and Hardware stores.  Beck has two locations in the Cincinnati area.  One location is in on E. McMillan and the other on Rt. 28 in Goshen.  The Bedbag sells for a retail price of $14.95 and comes in the three most common sizes of pickup truck.  Steve Pinson, V.P. of Product and Business Development is happy to have Beck as a major retailer of the BedBag product.   BedBag is also sold in other area landscape, automotive and hardwae retailers and is in talks with major big box stores for national distribution.  Retailers are listed on its Locator page of its web site (www.uniprodusa.com).  BedBag is designed to keep a truck bed clean and to keep things such and mulch, leaves, and loose debris from flying out the back of pickup trucks.  BedBag will also pull tight at the top to keep articles in the bed clean and dry. UniProdUSA LLC is a Clermont County marketer and distributor of the BedBag product.
______________
Testimonial!
My 88 Dodge Ram is a work truck and Bed Bag helps keep it's classic look.
--Ray Dankel, Ft Thomas, KY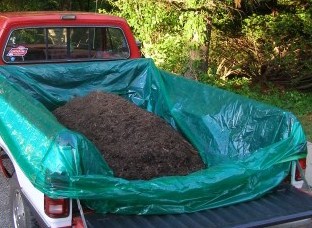 ______________
UniProdUSA Introduces Launch of BedBag Product, A Disposable Bedliner for Pickup Trucks
UniProdusaUSA has just recieved its first production units for distribution. At a $14.95 suggested retail price it is available online and in selected retail outlets. UniProdUSA exects national distribution within a year. Vendor inquiries welcome.

FOR IMMEDIATE RELEASE
Nov 09, 2009

A year a half in the making UniProdUSA is now manufacturing and is marketing its disposable pickup truck bed liner in retail outlets and online.  The BedBag is a large reusable/disposable pickup truck bed liner selling for a retail price of $14.95.  The BedBag comes in three sizes for long bed, short bed, and compact trucks.  There are 61 million pickup trucks in the USA with all needing the BedBag at some point in its lifetime.  The BedBag is made for the pickup truck owner who is looking to keep new or luxury truck bed clean or a construction/landscaper user trying to save labor.  Using the built in Drawstring the Bedbag draws up and ties just like a home garbage can liner. It keeps debris from flying out and will draw and tie to keep cargo clean and dry.  It can also be pulled out with light load such as mulch still in bag. UniProdUSA  has signed BedBag orders from independent retail outlets and is negotiating to enter the Big Box Stores soon and is in talks with home shopping channels to introduce product. Prospective vendors should contact Steve Pinson, V.P. Product and Business development.
______________
Testimonials!
I am a painter and I can't thank you enough for your BedBag product. For years I used a plastic sheet to keep my bed free from slopping paint and it never really worked. I have a very limited budget and your affordable bag fits my long bed perfectly and keeps my bed paint free. When it's time to empty the bed of all the trash and spilled paint I accumulate the BedBag is thick enough for me to just tie the straps and pull the whole thing out in one pull and my bed is paint and trash free and looking good. The BedBag pays for itself in cleanup time alone!! Great Product! I will recommend your product to my friends for both private and commercial use.
--Dan LaRuffa  

I am a landscaper who hauls a lot of mulch in a number of pickup trucks. I have spray on bed liners and the mulch always stains my sprayed on liners. The BegBag is just a Godsend. I no longer have to pay an employee to scrub and clean my fleet every weekend. This BedBag pays for itself in just clean time alone not to even mention the value of being able pull the clench top and keep leaves, mulch and debris from flying out the back.
-- Glen Z Cincinnati, Ohio
HOME | BEDBAGS | ABOUT US | BUY NOW | VENDORS | IN THE NEWS